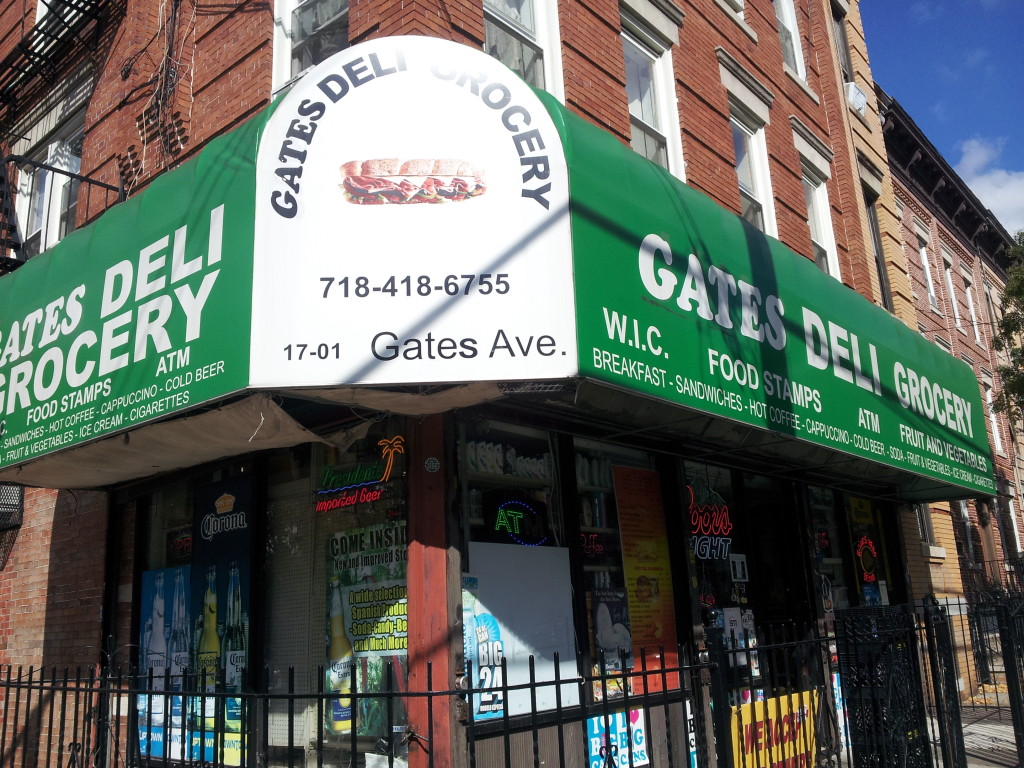 BREAKING NEWS: The Gates Burger Mystery — we're just going to go ahead and call it "Burgergate" — has been solved.
A quick summary for those of you who haven't been following along: a few weeks ago, we noticed that a place called Gates Burger purports to exist in Ridgewood, but the only establishment at their address (17-01 Gates Avenue) is a bodega called Gates Deli. Naturally, we figured it was one big scandalous cover-up: Gates Burger was fake, the reviews were fake, and Gates Deli was delivering crappy food to non-discerning Ridgewoodites. It didn't really make sense, and we weren't sure that was the exact explanation, but we didn't feel like dealing with it anymore and we let the mystery linger — Ridgewood would have to draw its own conclusions. 
But then we stumbled upon a real live Gates Burger order confirmation printout from GrubHub, for the delivery of one cheeseburger, mozzarella sticks, and a mango smoothie:
Found on the street: Gates Burger order confirmation #mystery #itlives twitter.com/Ridgefood/stat…

— Ridgefood (@Ridgefood) November 13, 2012
Our interest in solving Burgergate was renewed, and a quick trip to Gates Deli revealed the astonishing truth: Gates Burger is owned by a man named George, whose brother Gameel is the proprietor of Egyptian restaurant Amun. The two restaurants share a kitchen; Gates Burger orders are fulfilled by ghostburgerer Amun (though pick-up orders can be retrieved at either Amun *or* Gates Burger/Deli, which is a bit confusing). George told us there's no plan to consolidate menus and appearances (Gates Burger's menu is considerably smaller than Amun's, and it's just American food); his priority, he told us, is making sure food is "delivered hot." Fair enough. We're just glad to know that there's no cover-up, no lies, no scandal — just a couple of well-meaning but semi-aloof and new-to-the-restaurant-game Egyptian brothers.
By the way, we've enjoyed the foul and falafel at Amun. The cheeseburger and fries, though raved about online, were just okay when we ordered 'em. Their delivery can be slow and they forgot our mango dipping sauce twice. We want to love them, though. We'll post a full report asap!
Update Nov. 2015: Amun Restaurant closed awhile ago and the bar Onderdonk & Sons opened in its place. The owners of Amun moved over to 766 Seneca Avenue and operate both Gates Burger & Seneca Falafel from the kitchen. Reviews are not good and we live near there and it's literally always empty and it's a bodega. AVOID!
Gates Burger
17-01 Gates Avenue [map]
(347) 725-5082
www.gatesburger.com
Amun Restaurant
566 Onderdonk Avenue [map]
(347) 599-0226
www.amunrestaurant.com