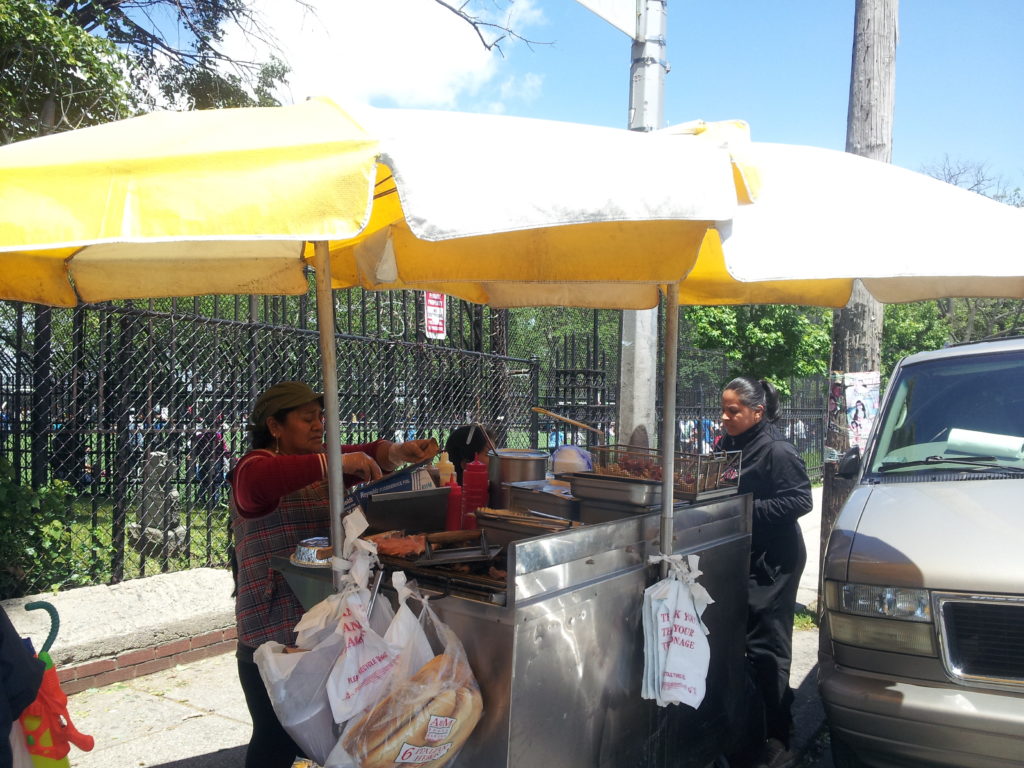 The last couple of weeks have been very busy, not to mention rainy as all heck, so we've extended Food Cart Month into June. On Memorial Day weekend we double-Ecuadorian-carted it, first stopping by the cart outside the Grover Cleveland Park fútbol fields, and then the one near Food Bazaar. This was our first visit to the Grover Cleveland cart. The Mexican lady who runs it sets up shop every weekend, when the fields are full of hungry athletic folks. Grilled chicken & pork skewers and our old friend salchipapas are the main offerings here. 
The meat was a little dry but it could've just been bad luck. Topped with barbeque sauce and paired with bread, it's perfect for refueling for the game.
Yes, we've written about salchipapas before. The GC cart's version is highlighted by a unique, lightly spicy orange sauce (i.e. not habanero) with the texture of ginger dressing at Japanese restaurants. Mysterious! [8/3/18 update: I think it's salsa rosada!] Salchipapas are pretty much a perfect cart-food but we'd love to see the hand-cut potatoes fried more crispily (limp is the status quo), with homemade mayo or possibly even garlic aioli (although that might be pushing it). Never mind, they're perfect as-is.
Grover Cleveland Soccer Fields Cart (weekends only)
Fairview & Stanhope Streets [map]