Let's be honest: in the world of Ridgewood's meager sit-down dining options, the fact that we now have Indian and Nepalese food, in a comfy space with cute moon lamps, is monumental. We're thrilled. The Nepalese Indian Restaurant on Seneca has been open for just over a week, so we thought we'd share some of the highlights thus far.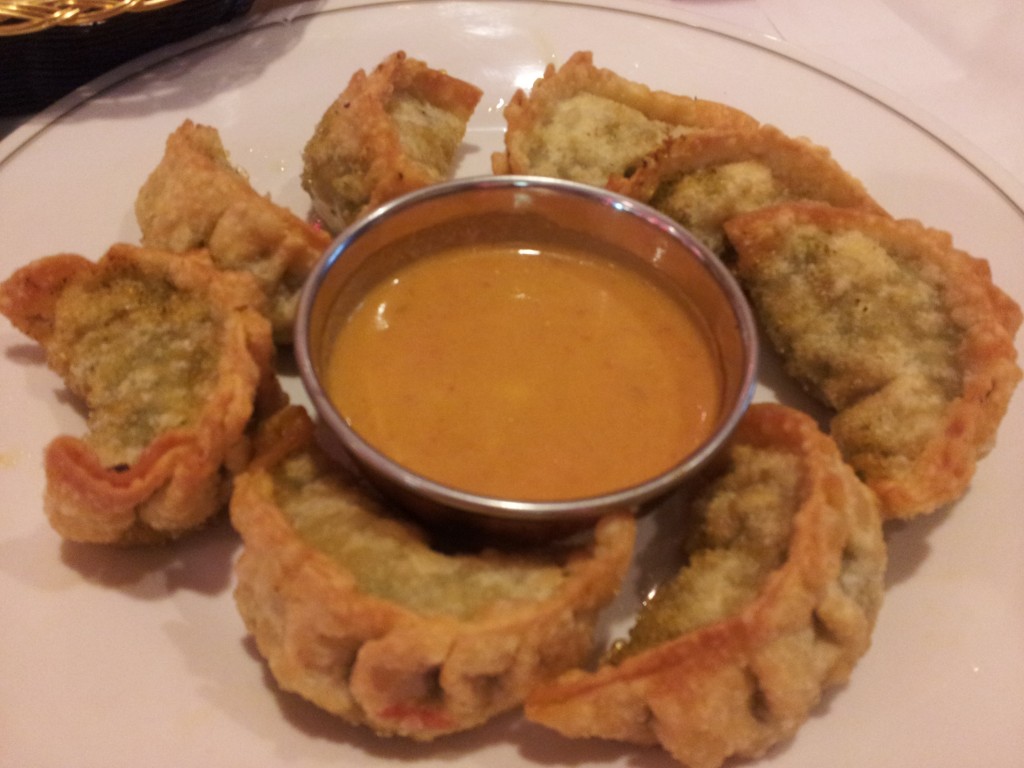 Momos! Everyone seems to be super-psyched about these traditional Nepalese dumplings, which so far are the only Nepalese menu items that are available. The vegetable momos are filled with finely chopped cabbage, flecks of carrot, and lots of ginger, and they're served with a spicy, lightly curried dipping sauce. Very, very tasty. Our momos were fried, but we're eager try the steamed version next time; they seem to be the more popular option among Nepalese folks (totally unscientific observation). 
Prix-fixe dinner special includes basmati rice, naan, dal, and gulab jamun for dessert. Standard stuff. Entrée options are limited but definitely cover the basics (like saag paneer, pictured).
We really enjoyed this shrimp tandoori masala, but a warning: it's very rich and kind of weighs you down, and you feel conflicted about having eaten something that may well be solid at room temperature. Our first choice, lobster tikka masala, wasn't available, but both dishes, along with several other menu items, contain bits of cashew nuts — a pleasant textural surprise.
Paneer makhan: another super-rich but tasty dish. Includes chunks of paneer, more of the creamy cashew sauce, and almonds.
Free papadum was better than we've had at other places. We also liked the samosas. There's so much more to try!
Now, the lowlights: The owner and staff are very friendly, but they really do need to work on their table service, as some reviews have indicated. It's really quite bad (menus, water, ordering our food, and the check all required prodding). They may also want to consider rearranging the tables in the back so it's less cramped. Luckily (hopefully), this can all be fixed.
Oh, one more thing: it'd be great if the Nepalese menu included descriptions of each dish, because unless you're Nepalese, you won't know what anything is. Currently, the Nepalese menu lists thukpa (noodle soup), samaya baji (an amazing-sounding combo-type plate with ingredients such as rice cakes, black soybean, boiled eggs, fruit, lentil patties, fresh ginger, and dried fish), and sel roti (rice donut with cardamom and cloves), but no mention of ingredients or even type of dish. Frustrating! Maybe we'll post a "Ridgefood Guide to Nepalese Items at Nepalese Indian Restaurant" when the rest of the Nepalese menu launches.

The good news is that the restaurant currently offers a 20% discount for take-out and delivery only. In other words, they're paying you to not dine at the actual restaurant. So until they get the service issues sorted out, take them up on their offer, order in (or play it safe and pick up) some momos and biriyani, and watch Louie or Friday Night Lights or Law & Order (circa Briscoe & Curtis) on Netflix Instant, and let them work out the kinks.
In other Himalayan Explosion news:
As reported earlier, No. 1 Fusion, the Chinese restaurant on Venditti Square, was set to launch a Tibetan menu last month. In a disappointing turn of events, they decided to scrap the plans and close the restaurant altogether. According to Harry, the building's owner, the proprietor of No. 1 Fusion was overwhelmed by the demands of running a restaurant, and he vacated the space very suddenly — he even left behind Tibetan mementos and a framed picture of the Dalai Lama. The space has since been rented to the folks who run neighboring barber shop Big Poppas, who plan to open a men's clothing store.
Nepalese Indian Restaurant
907 Seneca Avenue [map]
(718) 417-1873
www.nepaleseindianrestaurant.com